At the end of Serie A, it is time to evaluate the performance of each team during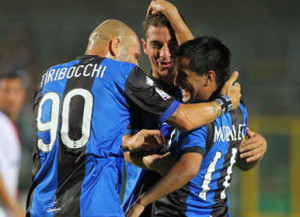 the whole season. This time the analysis regards Atalanta, Bologna, Cagliari, Catania and Chievo Verona.
Atalanta: 6/10, despite the penalization of 2 points the team remains in Serie A, after a positive season. Positive the performances of the players, especially of Denis, that is the leader of the attack. Good as well the management of the team by the president and the coach.
Bologna: 6/10, also this Club remains in Serie A without problems, thanks to an excellent coach that has succeeded in managing important strikers and in creating new strategies. Good season, especially for Alessandro Diamanti, Alberto Gilardino and Manolo Gabbiadini.
Cagliari: 6.5/10, the beginning of the season is not really positive, but since January Cagliari has found a perfect equilibrium. If also the first part of the season was so positive, Cagliari could have participate to Europa League. Important the presence of players as Ibarbo, Pinilla, Sau, Nainggolan.
Catania: 7.5/10, excellent performance of this team that could have qualified for Europa League, even if this last one was not the real objective of Catania. Perfect the coach Maran, able to create a motivated and unified group. Next year the qualification in Europe is a must for this team.
Chievo Verona: 6/10, despite a negative first part of the season, the new arrival Corini succeeded in maintaining his team in Serie A without problems. Probably correct the decision of the coach to leave on the bench the captain Pellissier, to make younger strikers play, such as Paloschi and Thereau.
Share
About Author
(0) Readers Comments