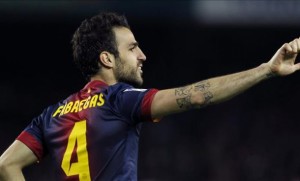 In life, sometimes, what matters is not being the best, but being adequate. Three days before the match against PSG, Cesc Fabregas came on the scene, just in time, in the position of 'false nine', which normally will cover Messi, we finally could see the most genuine Cesc.
The hall of Camp Nou saw an unleashed Cesc, demanding justice with a trigger that fired three shots to score and drew two more to go, a perfect match for him.
The funny thing was that its best came when the county usual hero, Leo Messi is injured. But this didn t happen only to Cesc, the same thought occur to Alexis Sanchez, unrecognizably and lethal.
It's the blessing and curse of playing alongside of one of the world's best players.
His presence has forced to move from position to other big players, because Queen Bee can be only one. It happened to Eto'o, Henry and Villa, who had to get used to roam in the band, something that couldn´t understand the giant Ibrahimovic and even more his gigantic ego. The same has happened now to Cesc or Alexis.
The Chilean seems to feel more comfortable as a reference nine. Fabregas on his side, does not quite find its precise fit in this Barca , too forward to be a midfielder.
This is the first time (as a pro) that Fabregas scored a hat-trick. With varying success, tried shots from all angles and was seen occasionally delaying his position in order to command the team.
Share
About Author
(0) Readers Comments