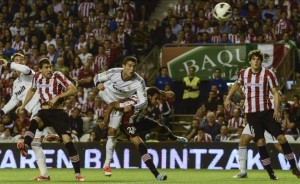 Cristiano Ronaldo man of the match today at the last derby between Athletic Bilbao and Real Madrid at San Mames, it ended 0-3 the third game in a row with the same score for the last two years. Two goals from the Portuguese and a third from Gonzalo Higuain closed the score.
Ronaldo has today showed samples of some of his specialties which enabled to beat Gorka Iraizoz twice, first with a superb shot outside the area directly to the square and the second with an equally meritorious header.
Madrid´s squad clearly exceeded more on the scoreboard than on the pitch, strengthen the second place in the league table, to avoid Atletico´s harassment and to maintain at least some tension in the lead to FC Barcelona,​13 points away..
The Athletic has made one of his best games of the season, but it was only enough to haste a very comfortable opponent after they scored at the first minute.
Although his situation is not to panic, the red-white team has been approached to 8 points to the relegation zone.
Ronaldo's wonderful goal at 70 seconds of the game, with a beautiful free kick straight to the net, put the whites early ahead in the score, they seemed to have everything mastered and with some comfort. The shot was perfect executed over the barrier.
But with the pass of the minutes, Athletic calm down, and got into the whites area, the first time began to strike on the white defense, Susaeta in a rush down the right wing coming from behind at minute 20th, ended with a down cross, looking for the long stick. Diego Lopez gave a good response sending the ball to a corner.
The second half started locked, with Ronaldo discussing with the referee about his behavior and giving explanations. Yellow ards began to fall as the Athletic would not relent in efforts to tie.
Madrid on their side attacked again in the 54th minute, where Iraizoz stopped two shots by Marcelo and Benzema, the second one, a nice chance being rejected by the goalkeeper.
Next, a play that seemed to not have danger, where Xabi Alonso took a free kick at min78th, a great jump from Ronaldo let a header beating the local defense, ending in 0-2.
Eight minutes later, Madrid took the lace. Higuain received alone in the right side of the area, one of the defenders enabled his legal position, on the other side and the Argentinian defined with a cross shot.
Share
About Author
(0) Readers Comments