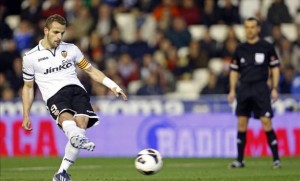 The Valencia´s striker Roberto Soldado, acknowledged in an interview with Efe, that he hopes to be the captain of the team for a very long time, and get some of the successes achieved by David Albelda, who after fifteen seasons, will leave the club at the end of this season.
"David is the living history of this club, one of the greatest. Has won national and international titles with Valencia, with the merit it has, and is an example for everyone," he said.
"I am also from Valencia, and it´s a huge honor to be one of the captains of Valencia. Hopefully I can carry that bracelet for a long time and hopefully get some of the successes that David has enjoyed in the club," he added.
As one of the team captains, the striker admitted that all administrative upheaval experienced by the club "are issues that we have in mind, which are fundamental to the future of the club, therefore we can´t forget", though he added that "the players would be wrong to dedicate more than the necessary attention to all these issues, because it might distract us from our task"
"I know that the club is being managed by good hands and, the president, is doing a great job to ensure the future viability of Valencia. Our only way to help improve this situation is to qualify to the Champions League, yet what this means for our economy, "he continued.
Soldado, who is still recovering these days from a sprained ankle, explained that the inconvenience persists, but that he thinks only in recovering to one hundred percent for the next match against Atletico Madrid at the Calderon.
"I'm working hard every day" he said. Valencia´s striker reveled that "this is the moment of the truth" and said they face "the final ten" in the remainder of the season to finish in fourth place. He added that they should not look at the rivals "but to maintain a good dynamic, and being regular."
Share
About Author
(0) Readers Comments