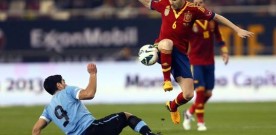 Brazil vs Spain will be the final match of Confederations Cup, while Uruguay and Italy will play to determine the third and the fou
rth position. In addition to the team results, Fifa has made a list with the 6 best players of this Confederations Cup. One of them will win the Confederations Cup Golden Ball and the winner could be determined depending on the result of the final.
The two Barcelona players Iniesta and Neymar have been selected as the most probable winners, due to their good performance in all the matches and their decisive role. Who will play in the best way during the final, will get almost for sure the Golden Ball. Another Spanish player inserted in the list is Sergio Ramos, Real Madrid defender and historical column of the Spain national team. Also this one has played a good Confederations Cup, being less incisive compared to the previous two.
The Brazilian midifielder Paulinho has been selected as well within the 6 best players. To remember is his performance against Mexico, where he has scored 5 minutes before the end of the match a magnificent goal. The Uruguayan Luis Suarez won't win due to the elimination of his team, but his performance has been more than positive, especially in the last match against Spain. The last name is Andrea Pirlo, Italian midfielder, who has functioned as playmaker in a good way being author also of a goal against Mexico.
Suarez and Pirlo have limited possibilities to win the Golden Ball due to the position of their national teams, while the Brazilian and the Spanish players have still the possibility to play in a magnificent way and to win this competition.
Share
About Author
(0) Readers Comments